Activities
Punakaiki is the gateway to the dramatic limestone country of the Paparoa National Park. We are lucky to be right in the centre with all walks and activities like kayaking, horse riding, surfing and so much more, are just minutes away.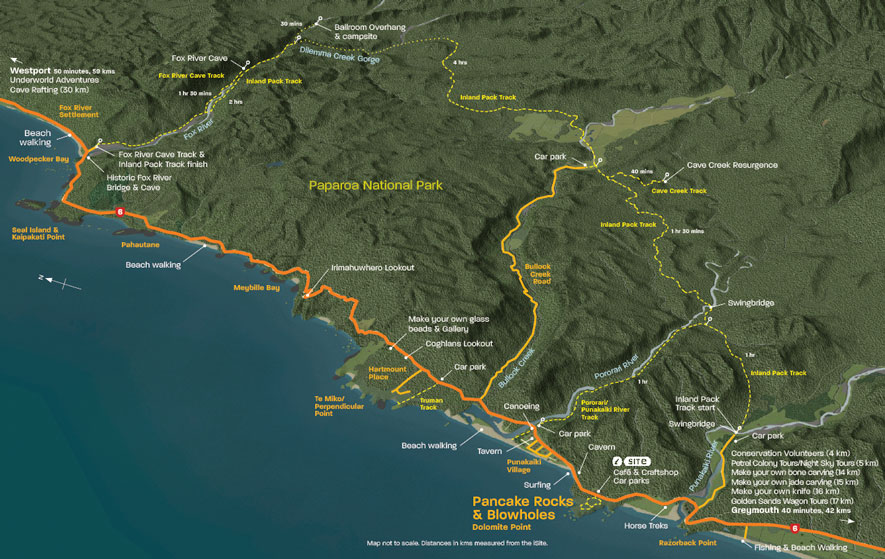 Pancake Rocks
The Pancake Rocks at Dolomite Point near Punakaiki are a heavily eroded limestone area where the sea bursts through several vertical blowholes. They are the most visited natural attraction on the West Coast and best visited at high tide.
Truman Track
If you want something to do in Punakaiki that is quick and easy, yet stunning and spectacular – this 15 min walk will literally take your breath away.
Pororari River Loop
The track starts at the bridge crossing the river and takes around 3-4 hours. It gives you a good impression of the whole area and its flora and fauna.
Fox River Caves
Approximately 2km north of Tasman Sea Retreat is Fox River and a small settlement, signalling the start of the track for the Fox River Caves and the Ballroom Overhang.
Kayaking
Kayak upstream on the Pororari River and enjoy the silence on the water drifting back. No serious experience required.
Underworld Adventures
Explore the underworld of the West Coast in Charleston, just a 20 minute drive away. Cave tours, rafting, caving – there's something for everyone.
Horse riding
Get an impression of the area on horseback.
For more activities please have a look on the official Tourism Site of Punakaiki.